"This has put us in the line of fire," says Józef, a 60-year-old taxi driver from the Warszów area of ​​Świnoujście.
The coastal city is home to Poland's largest liquefied natural gas (LNG) terminal, which some describe as the country's best chance at energy independence.
But local residents like Józef fear this could make him a target for Russia's unpredictable President Vladimir Putin.
Until this year, Russia supplied 40% of the European Union's natural gas, but after the bloody invasion of Ukraine in February, everyone in this part of Europe is nervous about supplies from Russia.
The threat is hard to imagine as we wind our way down narrow paths through a pine forest that borders the beach.
The sun's rays reflect off the industrial machinery placed along the road to the terminal.
But Poland is banking heavily on this sleepy northwestern Baltic port to rescue the country from a catastrophic energy crisis.
The Lech Kaczyński terminal is critical to replacing Russian gas that has been lost after Gazprom stopped supplies to Poland in April.
European gas prices soared in June. Germany has moved a step closer to rationing gas for consumers and Italy joined a string of European countries that reported further cuts in Russian supplies.
Capacity building throughout Central Europe
Meanwhile, at the Kaczyński terminal, workers are busy laying the foundation for a concrete shaft to connect a third cylinder to unloading jetties half a kilometer away on the shoreline.
LNG arrives at piers on oil tankers around the world, mainly from Qatar and the US, but also from Norway and occasionally as far afield as Nigeria or Trinidad and Tobago.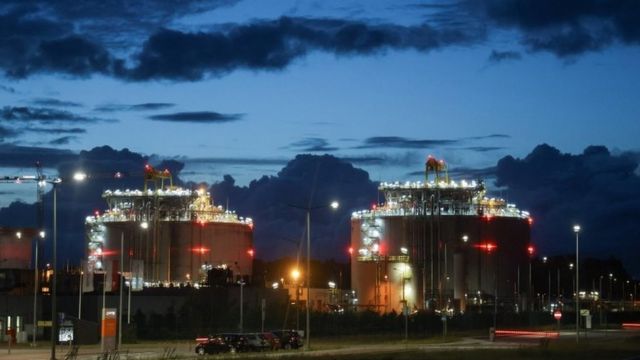 When asked if the project is on track, a Ukrainian worker smiles and happily replies, "even more than on track."
Commissioned in 2016, the terminal cost 3.5 billion zlotys ($783 million) to build.
It currently receives and regasifies about 23% of Poland's annual demand of 21 billion cubic meters (mcm) of gas.
Once expansion works are complete, this will rise to 7.5bcm a year by the end of 2023 and reports suggest it could rise to 10bcm after that.
Like the rest of Europe, Poland is moving away from coal-fired power plants, but domestic gas consumption is rising rapidly, probably at around 30bcm a year, roughly the equivalent of heating nine million homes.
The race for LNG
Driving through the terminal site, we pass overgrown WWII German bunkers behind a barbed-wire fence.
"The Germans are building their own terminal on the border, not far from here. But we will beat them," says Józef.
Świnoujście is much closer to Berlin than to Warsaw: just 90 kilometers from the German capital, compared to 560 km from its Polish counterpart.
In northern Germany, a long-planned LNG terminal near Wilhelmshafen has also just started construction, and there are plans for two more near Hamburg.
But when it comes to boosting the local Polish economy, the locals are optimistic.
Many of the jobs at the LNG terminal are not that far away for locals, with companies employing specialists from other parts of Poland and abroad.
Aleksandra Woźniak, a receptionist at Nowe Millenium, a modern hotel located right next to a site for a new highway tunnel, tells me that her energy bills are 70% higher than before the war.
"It's crazy, although maybe this terminal will help," he says with a shrug. Woźniak returned to the area after 17 years living in Devon, where he worked at TK Maxx.
"We returned to Poland to be close to our family, but immediately the covid appeared, then my mother-in-law died and now the war."
Her husband, a chef, and their four children, all born in Exeter, want to return "home" to the UK, she adds.
"Old Świnoujście is disappearing. It's a construction site. Some of the older locals resent the changes, the loss of that small-town feel, the tourist flavor. But it's progress," he smiles.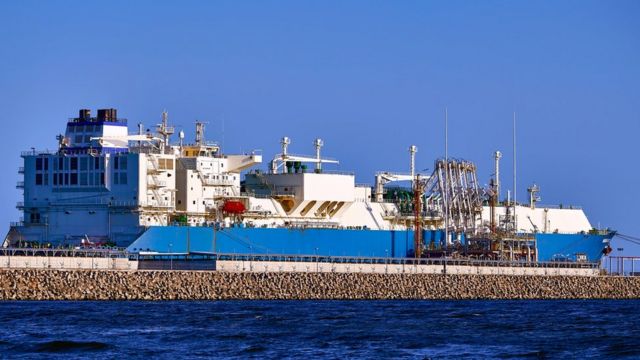 For now, tourism still seems like a good source of income: the city has a population of about 30,000 people but can receive about 300,000 tourists in the summer.
Oskar Janczarek, a sports shop clerk, has never visited the terminal. "However, for some reason, a lot of tourists come to see it. And more tourists is good for business."
As his customers arrive, he switches from English to Polish to German without missing a beat.
Oskar says bills for energy and other goods have skyrocketed in recent months and that the war "has made us realize even more how fluid borders are."
His colleague, Nadya, a young Ukrainian who also works at Eurosport, recently arrived from her hometown of Lviv in western Ukraine, agrees.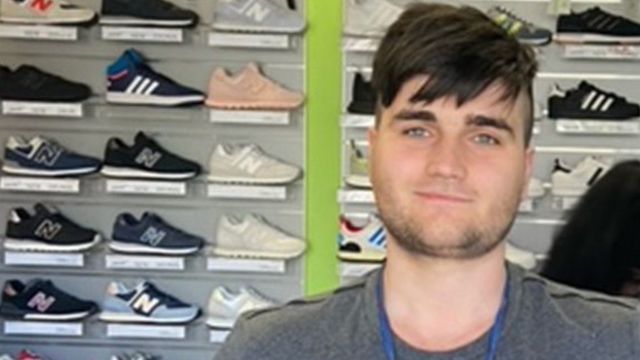 The fight to get away from Russian gas
Poland is working on interconnectors with Lithuania, Ukraine, Slovakia and the Czech Republic to be able to deliver excess volumes of gas to neighboring markets, in a bid to create a regional gas hub.
This is part of a strategy to reorient the Central European gas market, creating north-south gas routes to replace existing east-west links.
"Poland will have to play a crucial role both in the EU's efforts to phase out Russian gas imports and to achieve the long-term goal of zero greenhouse gas emissions," explains Henning Gloystein, Director of Energy, Climate and Eurasia Group Resources.
"The immediate priority is to replace the almost 10bcm of gas that Poland used to receive from Russia. That will happen mainly with the start-up of the Baltic Pipeline, which is scheduled to come on stream later this year," he adds.
"The combination of [this] pipeline and LNG imports improves security of supply. In the long term, Poland will have to do even more in terms of new energy resources, as the country must reduce its heavy dependence on coal… if you want to stand a chance of achieving your 2050 net-zero goals," says Gloystein.
Slovakia, which is almost entirely dependent on Russian gas, and the Czech Republic have pledged to support the terminal. The government of the latter has even said that it will invest in the expansion of the gas terminal in Świnoujście.
Meanwhile, the US company LNGE has reportedly offered to finance the construction of a new gas interconnection between Poland and Ukraine.
"Germany bet on Russian gas and now needs to fight to be able to supply enough gas to its own market today and in the future, without really knowing if it can/should count on Russian gas. Its energy policy with its goals to get out of coal and nuclear power will require more gas on the market in the coming years ," says Anna Mikulska of the Center for Energy Studies at Rice University's Baker Institute for Public Policy, who believes these changes will change Poland's status in Europe. Central.
"Germany's potential plans to be a gas hub for Central and Eastern Europe are no longer realistic," he adds.
"Poland, on the other hand, is on the right track, with the prospect that it will need to help its neighbors to the west, Germany or even beyond."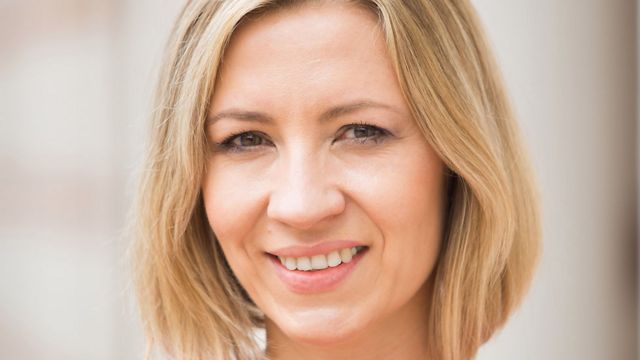 Too little and too late?
In March, the Polish government provided another 3 billion zlotys ($670 million) to the operator of the Świnoujście terminal.
And although the terminal has become part of the EU's Projects of Common Interest 2022 list, showing the bloc's commitment to supporting the project, not everyone is convinced.
To say that Poland will become a gas hub for the region is an exaggeration, according to Albrecht Rothacher, author of a book called "Putonomics" and a former German diplomat in the EU.
"Supplies from Swinemünde (Świnoujście) would be just a drop in the bucket," he says. "I am afraid that despite good intentions, it is sadly too little too late."
Link: https://www.bbc.com/mundo/noticias-internacional-61924832
Author:
Jo Harper

Business reporter, Warsaw